Sixth Form Admission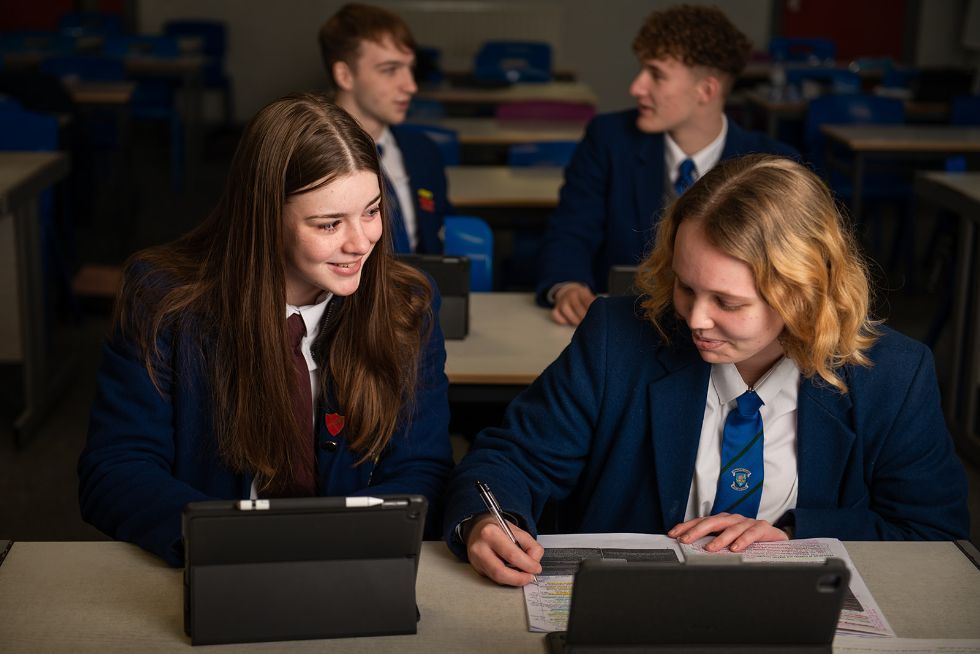 Sixth Form Study at Strangford Integrated College
Sixth form study is non-compulsory education. When a student has expressed the desire to enter sixth form at Strangford Integrated College (and GCSE results are available), they will be invited to attend an interview with members of senior staff. This interview will assist and guide students in making appropriate choices.
The College offers academic and vocational subjects, students can also choose a blend of these.
Sixth Form study necessitates an aptitude for independent study and is not suitable for every student. Students should make an informed decision based on their GCSE performance. An academic profile which is wholly made up of GCSE equivalent courses such as OCN or Occupational studies may not be appropriate for the academic rigour of A level study.
Collaboration
Students who choose to take a subject offered in collaboration need to organise and finance their own transport to and from the partner centre. Collaboration will run on Monday and Wednesday mornings 9am-11.30am and students will start their day in the partner centre.
Criteria for admission
It is our aim that we have clear evidence that the student is academically capable of benefiting from the courses of study that we offer. Appropriate evidence will be based on the results of the GCSE examinations.
It is important to note that Sixth Form courses offered at Strangford Integrated College are demanding and require a high level of independent study. Therefore, we have to consider not just your academic achievement but also your career path, skills, attributes and the likelihood of success.
Entry requirements for ALL students applying to Sixth Form at Strangford:
Grade C or above in GCSE English Language & GCSE Mathematics.
Minimum of 5 GCSEs at grades A*- C and/or BTEC level 2 at grades Distinction* - Pass
Minimum entry requirement of preferred subjects should be met. This will usually be a GCSE grade B or BTEC Level 2 Merit. 
Each student will be considered on their own merit. In the event that a student falls short of the academic entry requirements as outlined by the College, they should make an appointment to meet with the Principal to discuss the possibility of gaining a place.
Attendance –A minimum attendance record of 92% or greater is expected. A written declaration of attendance is required for external applicants.
Offer of Places
All offers of places will be based on: -
a) Necessary grades and points for admission to sixth form – published grades on official documents.
b) Record of attendance – a written declaration form for external applicants from previous school or college of 92% or greater in Year 12, unless exceptional circumstances apply.
c) Aptitude for Sixth Form Study – assessed at interview by our admissions team.
No student will be admitted to Sixth Form at Strangford College unless both the student and the responsible parent(s) have read, agreed and signed the College Sixth Form Agreement. It must be accepted without reservation that failure to adhere to the College Codes of Conduct and Uniform policy may result in the student being asked to seek to continue their education at an establishment other than Strangford Integrated College.
Applicants from other schools may be considered subject to acceptable school report, attendance, work record and behaviour. These applications are also subject to approval by the Department of Education NI.
The College reserves the right to adapt the entry requirements as necessary.