ICT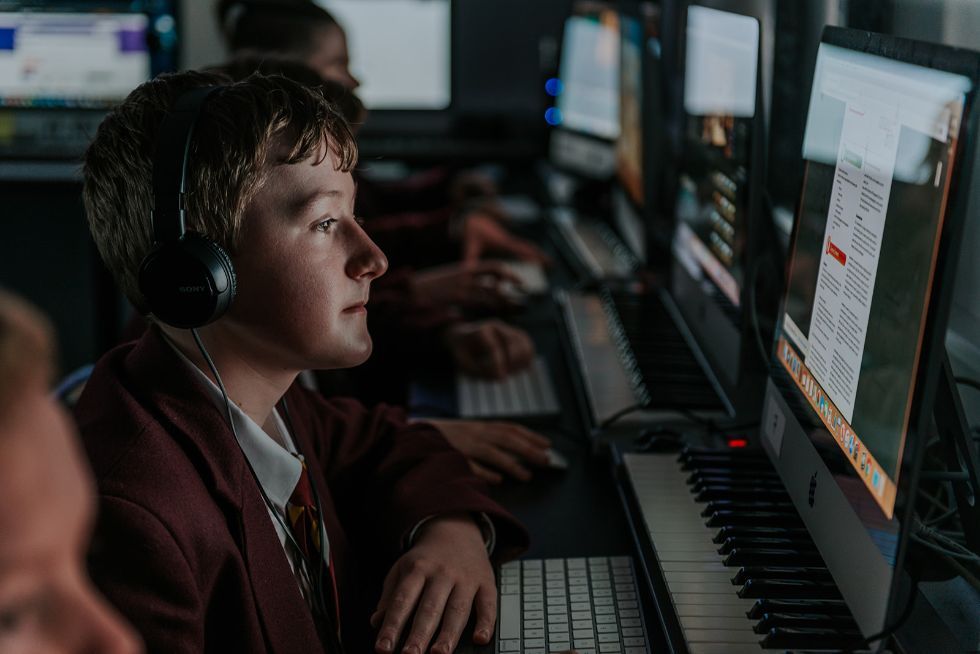 Our Vision
To educate, equip, and inspire students toward excellence in their creative understanding and use of ICT and to prepare them for the changing workplace.
Staff:
Miss J. Beers; Huw Thompson (Technician)
Key Stage 3
At Strangford Integrated College, ICT is a part of the curriculum. In Years 8, 9, and 10 ICT skills are taught one period (35minutes) a week. These skills are then applied by the students across the curriculum.
Currently the KS3 curriculum includes managing folders, spreadsheets, multimedia presentation software, the use of email, internet research and safety, database development, digital image creation, website creation, and programming skills using Scratch, and a flavouring of other coding environments.
KS4 (GCSE)
At KS4 students can chose different paths of ICT. Depending on the curriculum path they have chosen will depend on the offer available. For the Burgundy path students are presently sitting the Cambridge Nationals in ICT. This award is 25% examination and demands a detailed level of knowledge and understanding, as well as applying this knowledge to controlled assessment units. These units include Multimedia Presentation, and Website Development, as well as Spreadsheet and Database. This course is recognised world over as a good general base in ICT skills and knowledge.
KS5 (AS / A2)
At KS5 students are studying Cambridge Technicals Level 3 in IT. There are different paths through this and we have chosen the creative path. It includes Fundamentals of IT, Global Information, Cyber Security, Project Management, Project Development and the Internet of Everything. This is based on a grounding of knowledge and understanding of general ICT areas such as hardware, software, ethical issues, measures used to protect against cyber security and how information is communicated and developed through the use of IT. Currently pupils complete three exams at AS level and two coursework units at A2.
Cambridge Technicals offers a creative and inspiring vocational qualification. They have a clear, practical and sensible approach to assessment. It is an exciting, inspiring and challenging qualification created to develop transferable skills that are essential in the workplace or further study.
All students use Google Classroom and Google Drive. This can be accessed from any device at home or at school.
Educational visits and trips
Year 10 had a day with Sentinus in creating an app. They learned about coding, designing, and product development.
A selected group of year 10's also had four days at Price Waterhouse Cooper, with the Hive Academy programme. This was a fabulous experience with teams competing to develop a product and then present it, Dragon's Den style to a group of PWC managers. They even won a prize!
Clubs and extra-curricular activities
We have an iCode club where we focus on coding skills. For students interested in this pathway it is important that they develop their skills at home too by signing up to websites they work on at their own pace.
We introduce them to robotics, cybersecurity, and have organised visitors to assist with other tasks.
Dr Murphy also runs the Photo Club. In this students learn about good composition, how to take a better photograph, uploading it and sorting it on G Drive, learning how to use your camera's functions such as focus, depth of field. We have had students work published in the Bangor Spectator and want to extend and encourage this.
Departmental resources
Everything is on Google Classroom, or Google Drive.
Parents are expected to sign up and they can receive emails on homework due or incomplete.