Art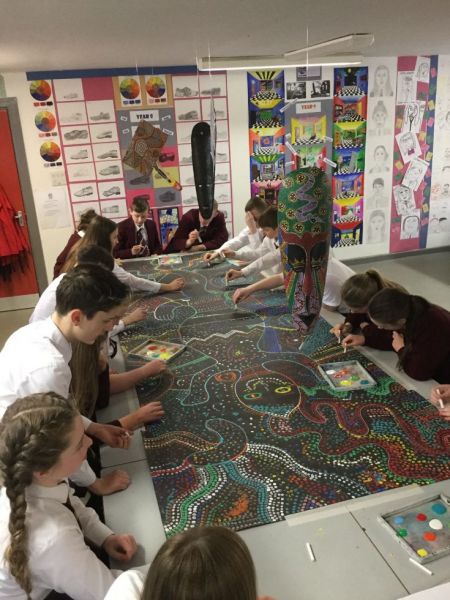 Our Vision
The Art department of Strangford Integrated College is a positive, inclusive and encouraging environment where all students are free to explore and express their creativity and enjoy a range of Art experiences.
We believe that a fair and consistent approach is conducive to learning and have high expectations of ourselves and the students in our care. We expect students to have high expectations for their own achievement and strive to push each one to reach their creative potential.
Staff: Mrs L Milligan (Head of Department); Mrs J Beattie; Miss S Stewart; Miss T Doherty; Mrs S Hanlon (Technician)
Key Stage 3
In Year 8, students study the formal elements, line, colour, tone, and texture. They also look at Art movements, styles and specific artists. The two themes are still life and seashore and students undertake projects experimenting with different media, chalk, paint, pencil, printmaking and ceramics where they design and make their own soap dish.
In Year 9, students study perspective, patterns and lettering. They will learn about one and two-point perspective leading to a project designing their own room. They also look at cultural pattern; design and packaging; and lettering and logos.
In Year 10, the theme is portraiture and students complete projects in self-portraiture, caricature, Photoshop, ceramics and textiles looking at relevant artists.
Key Stage 4
GCSE students study the CCEA Art & Design course. Building on the Key Stage 3 foundation, pupils will explore and develop their work through coursework (60%) and an externally set exam project (40%). There is opportunity for pupils to work from first hand resources, visit galleries and museums, study the work of others and experiment with a range of new techniques such as textiles, ceramics, print making, 3D construction, Photoshop, photography and fine art. Pupils are encouraged to work with personal expression and imaginative thinking.
Key Stage 5
A-Level students study in a workshop led environment with a selection of media, allowing them the experience to develop their own work in a chosen direction. Pupils at A-Level are stimulated and challenged to further develop their skills in a more personal and analytical way. The course encourages them "to present a personal, informed and meaningful response which demonstrates critical understanding and connections between visual, written and other elements."
Extra-Curricular Visits and Trips
There are regular educational visits organised to the Ulster Museum to see visiting Exhibitions. The Year 12 and 13 attend the True Colours Exhibition showcasing the best of GCSE and A-Level Northern Ireland Schools Art. Recently we attended the MAC to see the David Hockney Exhibition.
In Key Stage 4, we take students to either the Ulster Folk and Transport Museum or RUA Exhibition to take first hand photographs and develop their themes. A group of our Year 11 students are currently involved in designing and creating a joint mural with Bangor Central Primary School.
At Key stage 5, students attend a dry point etching course at Seacourt Print Workshop, which is an important contributor to their portfolio of work.
Year 8 Art Club
GCSE After School Club
A Level Workshops
Art as part of STEM (STEAM) Club
Follow our Twitter feed on @StrangfordICArt