Library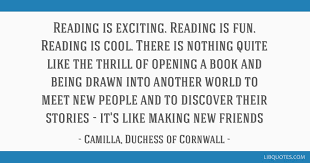 Welcome to Strangford College Library!
"They say in every Library there is a single book that can answer
the question that burns like a fire in the mind."
Lemony Snicket
"Something very magical can happen when you read a good book!"
J. K. Rowling
"Any book that helps a child to form a habit of reading, to make reading one of
his deep continuing needs is good for him."
Maya Angelou
The Library at Strangford College is a warm, welcoming and friendly space. Itis located centrally on our site, with comfortable seating and areas to study, allowing pupils from all year groups easy access to the many resources available for either study, research or reading for pleasure. There are also six computers available for student use, for study or research.
The Library is well stocked with Fiction and Non-fiction Resources, which not only support the curriculum, but allow students access to an up to date range of current novels to read for pleasure.
Accelerated Reader Classes are timetabled into the Library, one period a week, for Year Groups 8,9 and 10. The College's commitment to improving students' literacy is of paramount importance, and with a dedicated Librarian offering advice and reading recommendations, students are encouraged to develop their reading skills, fully engage and participate in this programme.
Our Library Catalogue, Eclipse, is available to view through MySchool. It allows students to view all the resources stocked in the Strangford Library.
• Covid-19 Update
The Library Space is currently used as a classroom for year groups 11 – 14; as such the Library is not able to operate in a "normal" way. Updates and details on Library operations will follow as things progress. Resources and information will be uploaded onto Google Classroom.
Keep an eye out on this page for Library news and events.