MFL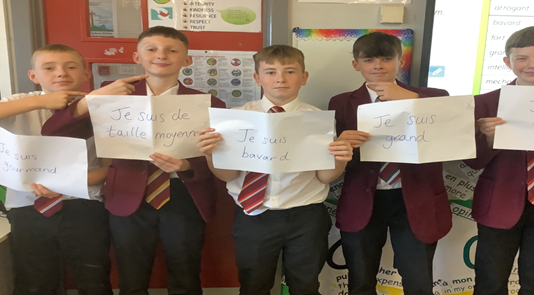 Our Vision
The Language department of Strangford Integrated College enthuses our students to fall in love with languages and to explore the pleasure learning French/Spanish can bring. We believe that language learning is fun and the ultimate brain workout. We strive to stretch and challenge our students to reach their maximum potential in all of the four core target areas, speaking, listening, reading and writing.
We have high expectations and support and encourage our students to be the best linguists they can be with an in-depth knowledge of both the language they are learning and the culture of the country. Our vision is to see students of Strangford College go forth and find a passion for travelling and use their language skills for both career opportunities and pleasure.
Staff: Mrs K Boomer (Head of Department); Mrs N Dorrian and Ms E Diaz Morris.
Key Stage 3
In Year 8 all students study Spanish. Students will learn basic introductory phrases in Spanish and explore topics such as family, pets, my home and school. By the end of Year 8, all students will be equipped with the fundamental grammar and sentence structures to be able to manage extended writing tasks and respond to fairly complex bursts of the target language. There will be a variety of learning tools used in the MFL classroom ranging from active learning and role-plays, IPADS, ICT tasks and digital textbook-based learning with audio activities. This is the same for all year groups regardless of level. In Year 9 we stretch our students further looking at more advanced grammar and begin to embed more complex language skills and encourage our students to use connectives, opinions and to justify their opinion. Students learn to manipulate the language to help them translate both from English – Spanish and vice versa. Two classes also get the opportunity to begin their French studies and study both French and Spanish simultaneously. The second language French course moves at a faster pace as those gifted linguists will be able to successfully apply their prior language learning skills.
In Year 10 we lay the base foundations in preparation for the start of the GCSE course for both Spanish and French. Students explore advanced grammar rules and practice translation skills and extended writing tasks alongside presentation and conversational skills.There is a large focus on more advanced topics such as the rights of young people in the Spanish and French speaking world and we learn about their customs and festivities in a celebration of cultural awareness.
Key Stage 4
We offer GCSE French and Spanish to our students and they can choose to do either language, both languages, or none at all. Building on the Key Stage 3 foundation, students explore advanced French/Spanish language and look at the customs and culture of each country. They develop their skills and confidence and learn to work with complex texts. There is a large focus on topics such as environmental and social issues and new technology. The four target language areas are all assessed at the end of the two year course and have equal weighting.
Key Stage 5
In Strangford Integrated College we currently offer the CCEA A level French course to our 6th form students. This is an intense language learning course with a focus on improving speaking skills and learning to read, write and listen to complex extracts of French.
In Year 13, students study the novel 'No et Moi' and the focus of the topics cover issues such as family relationships, culture and heritage, travel and new technology. In Year 14, students learn about the occupation of France during the Second World War and discuss issues such as immigration, social responsibility, rights and democracy and the world around us. The novel we study for A2 is 'Therese Desqueyroux'.
Extra- Curricular Visits and Trips
Every year we have an MFL trip abroad. We have been to Normandy, Paris, Madrid, Barcelona Venice and Verona and Valencia. We thoroughly enjoy taking our students away and think it is a privilege to encourage them to use their language skills in an authentic setting. Our school trips are usually open to all students from years 8-10. This year, 22 of our year 10 French language students are visiting Paris in January to have a day at our partner school Raymond Poincaré. There will be opportunities for sight-seeing in Paris and a day trip to Disneyland Paris.
We endeavor to host Onatti plays delivered entirely in Spanish/French each year. These plays are highly entertaining and in line with the demands of the Key stage 3 and 4 language learning curriculum.