Music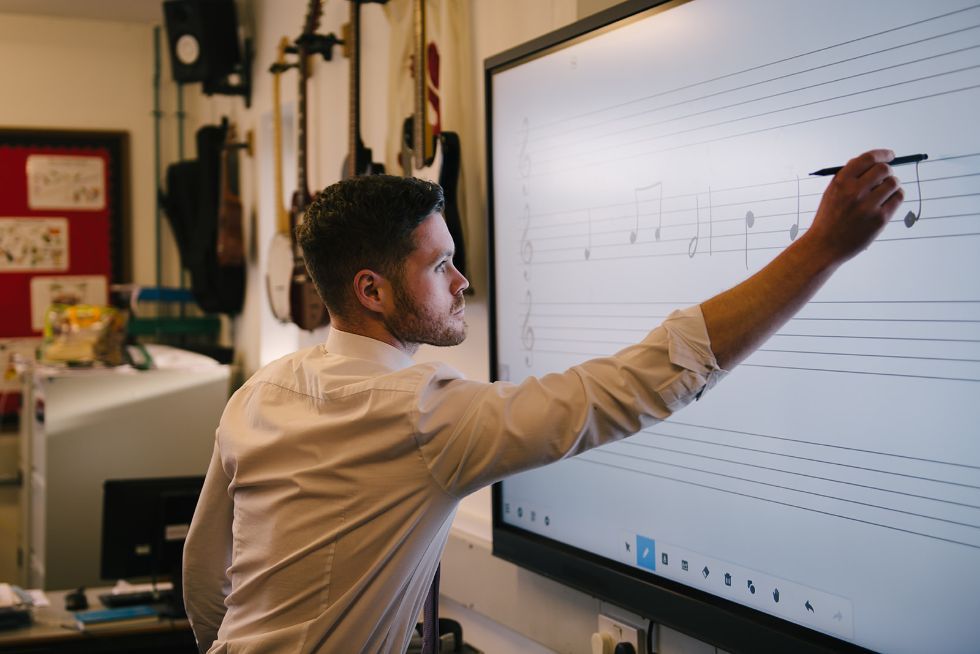 Staff; Mrs J. Bryce (Head of Department); Mr K. Beare,
Key Stage Three
All students in Years 8, 9 and 10 have two periods of Music per week. Schemes of work cover a range of musical styles and genres, with the aim of developing the students understanding and experiences. Many projects are based on 'Musical Futures', which is an innovative style of classroom teaching with a focus on allowing students to develop musicianship skills through playing lots of different instruments. Students who have private tuition are encouraged to make good use of their talent within the classroom.
Key Stage Four
Music GCSE students must be able to play an instrument or sing to a suitable level for the performance component.
Music GCSE encourages students to develop their musical potential by focusing on the three fundamental activities of performing, composing and listening and appraising.
What will I study?
Students explore contrasting music from a range of contexts in set Areas of Study, which are classical, pop, film and traditional Irish music. This deepens their appreciation of the diverse heritage of music. It also promotes their personal, social, intellectual and cultural development. Students will complete two compositions, based on the above areas of study as coursework. For the practical exam in Year 12 students will perform a solo and a group piece and the course completes with a listening written exam based on the set works also from the above areas of study.
Where will it take me?
Progression pathways include further study, for example our GCE (A-Level) in Music, or one of the BTEC Music courses and a career in performance, composing, teaching, music production, sound engineering, or instrument making and repair. Related career areas include arts management and music journalism.
Research shows that studying music can help students develop critical thinking, spatial reasoning and cognitive skills. It also helps develop communication skills and encourages creativity and expressiveness. Students who play music as part of a group develop team-working skills, selfdiscipline, self-esteem and the ability to listen to others.
Where can I get more information?
Please have a chat with Mrs Bryce or Mr Beare about the course. You can also look on the CCEA website. https://www.rewardinglearning.org.uk/microsites/music/revised_gcse/index.asp
Extra-Curricular
At Strangford Integrated College we have private tutors who come in weekly - Singing, Piano, Guitar, Drum Kit, Ukulele, Brass and Strings.
Extra-Curricular clubs run each week and lead towards performances throughout the year. The Junior, Senior and Staff Choirs as well as the Folk Group are a big focus. Christmas is always a very busy time, with busking at Castle Court for AutismNI now a regular booking as well as our three Christmas Services for the whole school to attend at the local church.
Assemblies are also a regular venue for performances throughout the year, giving singers and musicians a great opportunity to showcase their talent. Other big events in our schedule include Battle of the Bands for the Year 9's, Strangford's got Talent and Busking at Break.
Our aim is that every student has the opportunity to get involved, no matter what their skill level and fully experience life within our vibrant Music Department.