English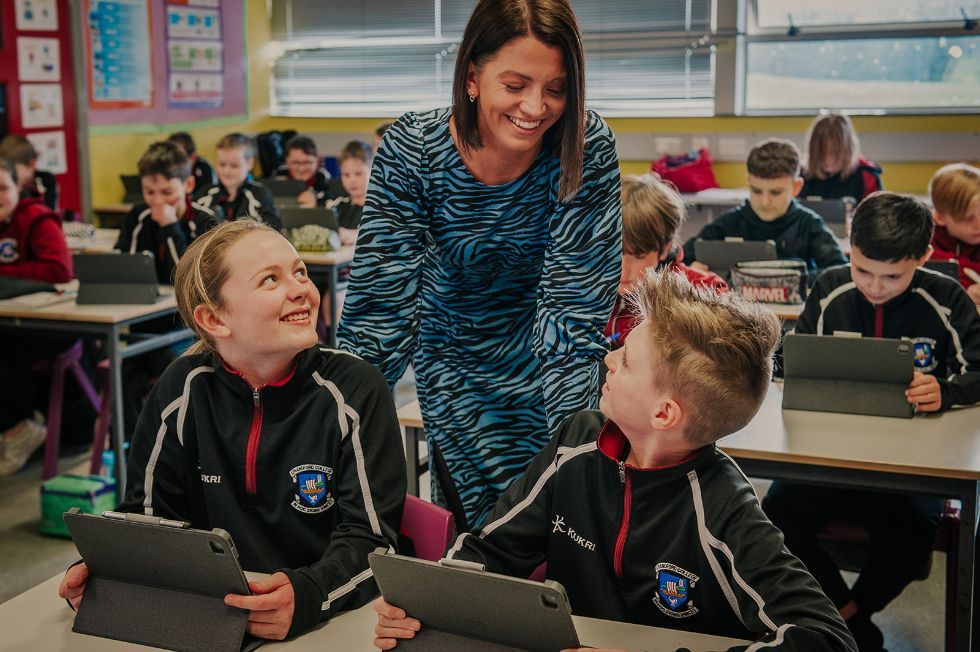 Staff:
Mr T McCartney (Head of Department)
Miss N Hatchell (Literacy Coordinator)
Ms J Swift
Mrs H Maginnes
Miss S Doran
Miss J Cameron
Mr N Rowntree
Key Stage 3
At Key Stage 3, emphasis is placed on developing pupils' confidence and skills in the core areas of Reading, Writing, and Speaking and Listening. Students will study a variety of texts from different genres, periods and cultures.
All students in Key Stage 3 receive at least seven periods of English each week. One period per week is allocated to the Accelerated Reader scheme, and students are taken to the College Library.

Year 8

Students study a variety of literature, including a prose text, modern play, and a range of poetry, as well as non-fiction writing and an introduction to Shakespeare. They also have the opportunity to develop their speaking and listening skills through participation in role plays and class discussion.

Year 9

Students build on their existing knowledge, studying a novel, poetry, and a range of persuasive and non-fiction texts. Students will also have the opportunity to explore character in one of Shakespeare's plays.

Year 10

We aim to consolidate skills in Reading, Writing and Talking and Listening. Students study Shakespeare's 'Romeo and Juliet', complete a focused poetry analysis, and explore themes and characterisation in a modern prose text. The study of multi-modal texts and an introduction to the analysis of spoken language texts also form part of the Year 10 curriculum.



Tasks and assessments are based on the Communication Levels of Progression at Key Stage 3: Talking and Listening, Reading and Writing. Within each unit of study all students will complete common core assessments that allow us to monitor progress effectively and set precise targets for students.
Key Stage 4
All students study the CCEA GCSE in English Language. A number of students will also study CCEA GCSE English Literature.

English Language
Unit 1: Writing for Purpose and Audience and Reading to Access Non-Fiction and Media Texts (30%)
External examination 1 hour 45 mins
Unit 2: Speaking and Listening (20%)
In this unit, three tasks are internally assessed: an individual presentation, group discussion, and role play.
Unit 3: Controlled Assessment – Studying Written and Spoken Language (20%)
Task 1 – The Study of Spoken Language
Task 2 – The Study of Written Language
Unit 4: Personal or Creative Writing and Reading Literary and Non-Fiction texts (30%)
External examination 1 hour 45 mins

English Literature
Unit 1: The Study of Prose - 'Of Mice and Men' & Unseen Prose (30%)
External examination 1 hour 45 mins
Unit 2: The Study of Drama and Poetry - 'Blood Brothers' & Poetry (50%)
External examination 2 hours
Unit 3: The Study of Shakespeare (20%)
Controlled Assessment on 'Macbeth'
Key Stage 5
Students choosing to study English at AS and A Level study CCEA English Literature.
Students will complete the AS component of the exam in Year 13 and A2 in Year 14.
The AS Level is made up of 2 units. Each unit is assessed externally at the end of Y13.
Unit AS 1: The Study of Poetry 1900–Present and Drama 1900–Present (60% of AS / 24% of A level)
Texts for Study
Poetry: Poetry by Robert Frost and Seamus Heaney
Drama: The Crucible by Arthur Miller
Unit AS 2: The Study of Prose Pre 1900 (40% of AS 16% of A level)
Texts for Study
The Scarlet Letter by Nathaniel Hawthorne
The A Level course is made up of 3 units. Each unit is externally assessed at the end of Y14. These results are combined with the AS results to form and A Level grade.
Unit A2 1: Shakespearean Genres (20% of A level)
Texts for Study
King Lear/Othello
Unit A2 2: The Study of Poetry Pre 1900 and Unseen Poetry (20% of A level)
Texts for Study
Geoffrey Chaucer (The Wife of Bath's Prologue and Tale)
Unit A2 3: Internal Assessment (20% of A level)
Texts are chosen in collaboration with students undertaking the course. Each student will be guided by staff in choosing two texts of their choice one of which must be a twenty-first-century novel.
Extra Curricular
We offer a wide range of extra-curricular activities including the Creative Writing Club; theatre visits; visits and workshops from guest speakers.
We run a series of House Competitions throughout the year, including a poetry competition to celebrate National Poetry Day in October, and a series of activities to celebrate World Book Day in March.
Homework & Core Assessments
At Key Stage 3 each student is given regular homework to complete. This can take the form of research, spellings, reading responses and written tasks. Pupils are also expected to spend a minimum of 20 minutes reading every night.
Core assessments take place six times a year (2 each term).
At Key Stage 4, students are given regular homework which includes research, reading, preparation for controlled assessment tasks and examination practice questions.
At Key Stage 5, students are expected to undertake personal study and use their time effectively to consolidate their learning. They are given a range of tasks related to the course, including research, reading and written tasks, preparation and delivery of presentations, and practice examination questions.