Technology & Design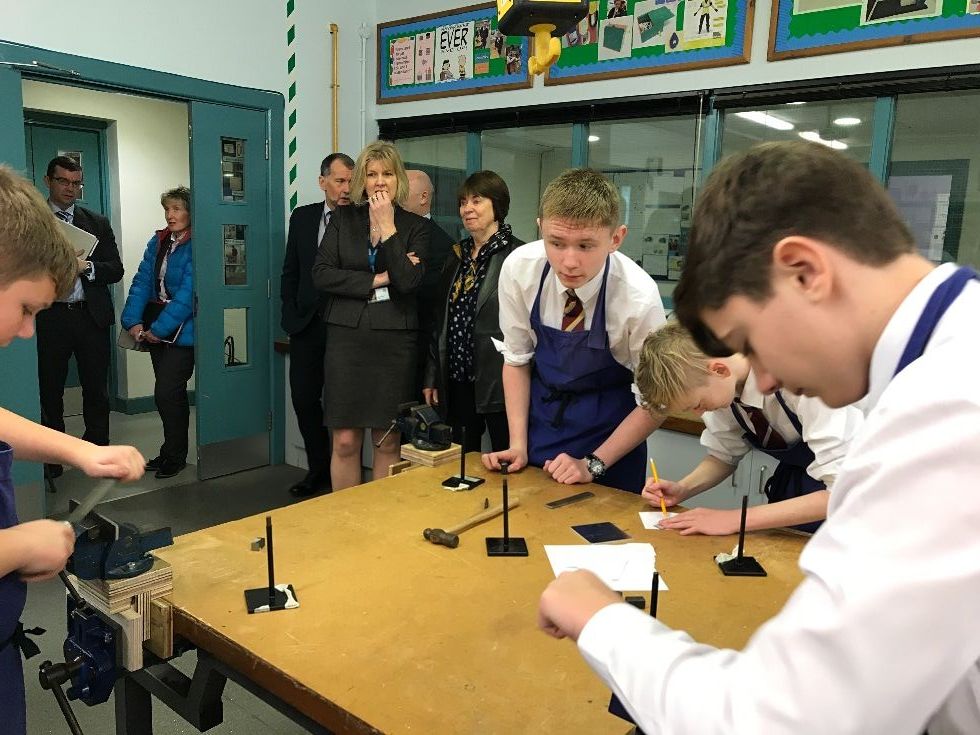 Facilities
The Technology & Design Department at Strangford College has one design room and two workshops which are all well equipped with specialist Technology equipment. Our design room is a computer suite with advanced graphics capability for high quality Computer Aided Design (CAD ) work.
As well as well equipped facilities, Technology & Design at Strangford College also has a fantastic team of teaching and technical staff who are knowledgeable, enthusiastic and highly skilled and who seek to stretch every student and challenge them to be their best.
Staff
Mr D Allen (Head of Department); Mrs K Priestly
Ethos
We believe Technology & Design prepares our pupils to be contributors in tomorrow's rapidly changing technologies. As our students progress from Key Stage 3 through to A Level, the subject calls for them to become autonomous and creative problem solvers, as individuals and as members of a team. They must look for needs, wants and opportunities and respond to them by developing a range of ideas and manufacturing products. They combine practical skills with an understanding of aesthetics, social and environmental issues, function and industrial practices. As they do so, they reflect on and evaluate present and past designs and technologies, their issues and effects. Through Technology and Design, all our students can become discriminating and informed users of products as well as becoming innovators.
Key Stage 3
All SIC students study KS3 Technology & Design and work through a variety of practical tasks which help them to develop practical and design skills. The projects allow students to focus on all the Technology & Design areas and to produce creative and well manufactured projects.
Key Stage 4
GCSE Level Technology & Design (CCEA Board)
Unit 1 -Core theory paper - 1.5hrs undertaken in year 11 (25% of GCSE)
Unit 2- Pneumatics & Mechanisms option - 1.5hrs undertaken in year 12 (25% of GCSE)
Unit 3- Design and Manufacture project - undertaken throughout year 12 (50% of GCSE)

GCSE Level Road User & Motor Vehicle Studies (CCEA Board)
Unit 1 - Motor Vehicle and Road User Theory - 1.75hrs undertaken in year 12 (50% of GCSE)
Unit 2 - Investigative Study - controlled assessment portfolio (25% of GCSE )
Unit 3 - Practical Riding Activity undertaken in May of year 12 (25% of GCSE)
Key Stage 5
A2 Level Technology & Design (EDEXCEL Board)
Component 1: Principles of Design and Technology (Paper code: 9DT0/01)
Written examination: 2 hours 30 minutes (50% of the qualification)
Component 2: Independent Design and Make Project
(Non-examined assessment - 50% of the qualification)